PERSONAL TRAINING
With the right program and the help of Clarke's expert guidance, you can transform your health and look great in a mere 6 weeks. One of Clarke's strengths as a Personal Trainer is his ability to create fun and varied programs that take client's minds off their workouts making working towards your goal an enjoyable experience.
"The benefit of a Personal Trainer lies in several areas. Aside from benefiting from expert advice and a tailor made fitness program which ensures efficient workouts, there is great value in the encouragement of a Personal Trainer who can help you stay focused on your goals while making exercise enjoyable." – Christopher Clarke
Services Offered
Personal Training sessions
Transformations
Group Training Sessions
Water Aerobics & Rehabilitaton
Nutrition & Wellness
International Fitness Events
Tailor-made fitness programs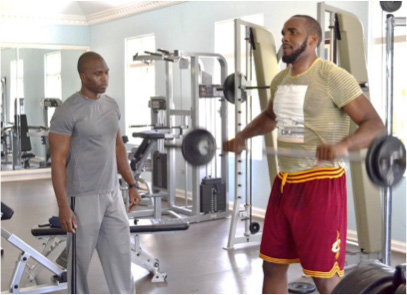 Personal Training sessions
With in-depth expertise in the fields of Personal Training, Group Fitness Training, Body Building, Rehabilitation, Health Assessments and Nutrition, Clarke offers tailor-made workouts to both individuals and groups at a local Montego Bay gym, at private homes and at hotels in the Montego Bay area. Training former United States N.B.A. and current EA7 Emporio Armani Milan (Italy) basketball player Samardo Samuels.
Transformations
Whether your objective is weight loss, body sculpting or simply staying in shape, Clarke will put together a tailor-made program that is adapted to suit your particular needs and objectives based on an initial Health Assessment.Clarke's tailor-made individual training programs and nutritional recommendations are famed for transforming the bodies of his clients in record time, and the Personal Trainer has gained a reputation as a personal trainer with a no-nonsense, efficient approach.
Water Aerobics & Rehabilitaton
Clarke takes full advantage of Jamaica's warm climate and unique backdrop to help clients take their minds off their workouts and often uses the beach for strength drills or stretching exercises. Clarke also favours the use of water aerobics for rehabilitation exercise purposes, and has extensive experience training clients with mobility issues rehabilitating from injury.
Nutrition & Wellness
"Nutrition is the basis of fitness. It is the ingredient that will in enhance your performance and a crucial part of a training strategy. We will tailor a detailed meal plan depending on your needs: diet, muscle gain, fitness, or simply to help you maintain optimal health." -Christopher Clarke
International Fitness Events
Clarke's services are sought-after internationally, and he frequently travels to assist clients participating in fitness event. In 2014, Clarke travelled to Dubai, U.A.E. to participate in the Asics Go Sport 8km Run at The Track Golf Club at Meydan together with a client. Here with Warren van der Merwe, Race Director from Super Sports Events.
Tailor-made fitness programs
Passionate about health and wellness, Clarke is reputed for his ability to help his clients get in shape. A certified Personal Trainer and Group Fitness Trainer, AFAA (Aerobics and Fitness Association of America) as well as a Certified Nutrition & Wellness Consultant AFPA (American Fitness Professionals & Associates), Clarke has a multifaceted repertoire which he pulls from and adapts to each client's requirements. His satisfied clients include global reggae icon Jimmy Cliff.